Development of a Comprehensive Care Plan
A care plan is developed in collaboration with the person living with osteoarthritis of the hip or knee through discussion of evidence-informed treatment options. Using a shared decision-making approach will ensure the individual's health priorities, goals, values and preferences provide a foundation for the care plan.

Key Messages for Development of a Care Plan
A care plan is living document that describes the treatments discussed with the individual with OA and chosen to address their health concerns and goals
Each care plan is tailored to the individual and should account for socio-economic status
Using shared decision making techniques, select Core Treatments and combine with Adjunct Treatments as required to support full participation in the Core Treatments
Attach SMART goals to the selected treatments
Choose a specific review or follow up plan
Shared decision-making (SDM) techniques and processes are emphasized throughout these standards. The use of SDM is essential to achieving 'family and patient-centric' care. SDM is evidence-based and proven to improve outcomes for the individual such as satisfaction with and adherence to care plans.
Standard 2 describes how sharing the decision making is important for building a care plan. This toolkit This toolkit provides more detail on the 3-talk model that can be used to practice SDM in everyday practice.
A conservative osteoarthritis (OA) management care plan considers the individual's overall wellbeing. Overall wellbeing includes multiple factors:
Body function and symptoms such as pain, swelling, joint range of motion, strength, balance, and any comorbidities.
Mental health fitness.
Daily functional activities such as personal care, walking, climbing stairs, sleep, housework, and meal preparation.
Daily occupational activities such as employment and family responsibilities.
Recreation and leisure pursuits and interests.
Personal and cultural beliefs and attitudes towards health, activity, and exercise.
Social determinants of health including socioeconomic status, education level, health literacy, family support systems, food and shelter security.
Active versus Passive Treatments
The word 'treatment' is used to describe evidence-based options for conservative osteoarthritis (OA) management. Treatments can encompass a range of interactions between an individual and a clinician:
Active treatments: the individual with OA is a full participant in the treatment (i.e. pool therapy program and using self-management skills).
Passive treatments: the individual with OA receives an intervention from a clinician (i.e. an intra-articular injection).
Regardless of whether the treatment is active or passive, throughout these nine standards the principles of 'family and patient centred' care are emphasized to encourage the use of shared decision-making techniques with the individual with OA and ultimately to promote self-management of OA.
Example of Appointment Structure: Diagnosis to Care Plan Start
Below is a template for appointment structuring, which clinicians/clinician teams might consider adopting to work in alignment with these standards. Collaboration between physicians and allied health strengthens the experience for an individual with osteoarthritis (OA) for these first few appointments. Identify the person in your team who is best suited and has the greatest strength or training for the activities described below. For instance: therapists (e.g. physiotherapists, occupational therapists) have extensive training in setting SMART goals using shared decision-making techniques.
Example Activities
Suggested Responsible Team Member
Individual presents with pains that may indicate OA.
Schedule individual for comprehensive assessment appointment.
Primary clinician of individual's choice (See Standard 3)
Comprehensive assessment. Confirm OA diagnosis.
Ask the individual to reflect on their goals and values to support the:

SMART goal writing process and
Treatment choosing process for the next visit.
Explain Core vs. Adjunct Treatments.

Consider using small group appointments to promote community building among individuals with OA
Collaborate to build a care plan
Review and choose a follow-up plan
Alberta Referral Directory
Alberta Referral Directory to assist with: 
Identifying diagnostic imaging locations

Orthopaedic surgery referral requirements to the Alberta Hip and Knee Program (if appropriate)

Designing a local Resource Inventory and keeping it up to date

Referral to other clinicians

OA Self Management Toolkit
Osteoarthritis Self Management Toolkit
The Osteoarthritis (OA) Self Management Toolkit is a handout for the individual with OA. It is evidence-based and adaptable to many healthcare settings. The toolkit can be used to build a care plan and to progress a care plan over time as the individual's symptoms progress.
The OA Self Management Toolkit was designed with the principles of 'family and patient-centric care' in mind. The tools are easy to use in combination with shared decision making  techniques to promote the individual's self-management of their OA.It was also created in collaboration with individuals with OA.
Tool in OA Self Management Toolkit Components
Purpose of the Component
Education Booklet
Provides introductory information on OA from basic facts to introductions to coping techniques.
Report Card
A one-time worksheet for the individual with OA to reflect on their experiences of OA treatments to date and identify their values and goals.
Treatment Menu

Presents specific examples of treatment options for the individual with OA to select from. The menu is structured in alignment with strength of evidence for the treatment11Bowden JL, Hunter DJ, Deveza LA, Duong V, Dziedzic KS, Allen KD, et al. Core and adjunctive interventions for osteoarthritis: Efficacy and models for implementation. Nature Reviews Rheumatology. 2020;16(8):434-47. .

The menu aligns with the OA Treatments Toolbox (Core Treatments are higher on the menu) but presents the treatments in a public facing way that promotes ongoing trial and error, and self-choice for the individual with OA.

Resource Inventory

Aligned with the Treatment Menu structure, this tool presents specific information on 'where' and 'how' the individual with OA can trial their selected treatments. It is crucial to putting an OA management care plan into action.

Resource Inventories are region specific and should be actively maintained for local accuracy.

This is an Example of regionally adapted Resource Inventory.

This is a Template for creating a new regionally adapted Resource Inventory.
SMART goals are a tool of shared decision-making and are becoming more common in healthcare. The use of SMART goals can promote adherence to the non-surgical osteoarthritis (OA) management Care Plan by meeting the individual where they are at in their readiness to change. Meet the individual where they are at by tailoring the scope of the goal appropriately. This also helps both the individual and the clinician attach accountability to the changes. SMART goals are:
S
Specific
The goal is specific to the non-surgical treatment selected, i.e. going to the pool for aerobics.
M
Measurable
The frequency that the treatment will be employed, i.e. going to the pool two days per week.
A
Attainable
The treatment is chosen in context of the individual's life, i.e. going to the pool two days a week is a significant but realistic change from their current activity and this is available and accessible to them.
R
Rewarding
The treatment is meaningful to the individual, i.e. going to the pool includes a chance to visit with a dear friend and together they will be working on changes for their OA.
T
Timely
The treatment has some due dates attached, i.e. the pool visits will start next week and they will be reviewed in 4 weeks with the lead clinician.
SMART goals take practice to write and are most successful when they are created in collaboration between a clinician and an individual with OA (shared decision-making). For some clinicians the skills required for the collaborative care described in these standards may be new territory. The following are suggestions for additional training that clinicians may find beneficial:
This toolkit for learning more about shared decision-making techniques
Health Change Methodology
Motivational interviewing
Any training that focuses on 'family and patient centered care'
Using the Osteoarthritis Treatments Toolbox
The following are instructions for how to use the Conservative OA Treatments Toolbox to build a care plan. Also use these tables for specific examples of each sub-category of treatments.
Choose Core Treatments first

They have the strongest evidence for OA management.
They should be emphasized every time a care plan is modified (Standard 3).

Use Adjunct Treatments for additional symptom management

The use of Adjunct Treatments enables the individual with OA to continue to participate in Core Treatments.
Use clinical judgement to combine any treatments that will support the individual to participate in Core Treatments.
Discuss with the individual the difference between the use of active treatments as opposed to passive treatments .

Work with the individual with OA to set SMART goals for their selected treatment.
Use your local Resource Inventory to discuss how and where the individual will trial the selected treatments.
Document the care plan and discuss a specific plan for follow-up appointments (Standard 3).

Provide the individual with a copy of the care plan and the follow-up plan to promote self-management
While the Conservative OA Treatments Toolbox are a tool for clinicians, clinicians should not use it in isolation without collaborating with the individual. Shared decision-making techniques can be used to build the individual's care plan. The Treatment Menu and the Resource Inventory from the OA Self Management Toolkit are the individual-facing tools that align with the Conservative OA Treatments Toolbox.
Note: if the individual with OA presents with symptoms that require immediate referral to surgery (see Standard 1), then the building of a care plan should be structured to complement the orthopaedic surgeon's orders, whether the individual is a surgical candidate or not. See Standard 8 for more details: the conservative OA management journey does not end with surgery.
Osteoarthritis (OA) is a progressive disease with no cure. Osteoarthritis Research Society International (OARSI) and Patient and Community Engagement Research (PaCER) findings have concluded that the individual needs to have control of their care journey. The individual lives with their evolving disease every day, while the clinicians only provide support for short periods of time or short interactions1313Not available.. Throughout these nine standards, the principles of self-management are reinforced. Confidence in self-management can be supported by employing 'family and patient-centred care' principles using shared decision-making techniques.
All the processes and strategies described in these standards focus on empowering the individual to gain knowledge and to make choices for their OA journey based on that expanding knowledge. The principles of self-management are crucial to day-to-day symptom management. Symptoms of OA can flare up without explanation and the empowered, engaged and educated individual will be able to take action when this occurs.
As care progresses, every clinician should support the individual to gain confidence in applying their expanding OA knowledge to make treatment and self-management choices. Self-management strategies for OA include:
Priority and goal setting
Self-evaluation
Problem-solving
Mental health management
Symptom management:

Thermotherapies
Activity self-selection

Seeking clinician appointments as needed
More detail is provided in Standard 7 for those individuals who want to build more confidence in self-management techniques.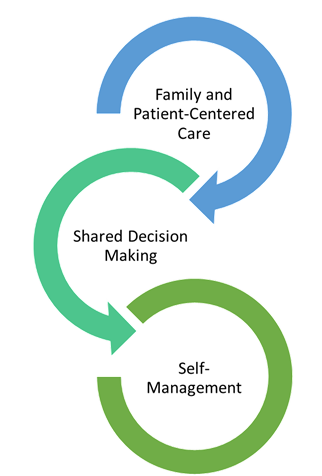 Regulated Health Care Professionals
Family Physicians
Nurse Practitioners
Physiotherapists (Allied Health)
Occupational Therapists (Allied Health)
Pharmacists (Allied Health)
Registered Dietitians (Allied Health)
Psychiatrists
Psychologists/Mental Health Therapists
Chiropractors
Specialty Physicians including:

Sport and Exercise Medicine Physicians
Radiologists
Rheumatologists
Physiatrists
Orthopedic Surgeons
Osteoarthritis Clinicians
Clinicians (Regulated Health Care Professionals) Who Can Diagnose Osteoarthritis
Clinicians Who May Participate in the Assessment and Treatment of Osteoarthritis
Family physicians
Nurse practitioners
Physiotherapists
Occupational therapists
Specialty physicians including:

Sport and exercise medicine physicians
Rheumatologists
Physiatrists
Chiropractors
Orthopedic surgeons
Regulated Health Care Professionals:
Family physicians
Nurse practitioners
Physiotherapists (Allied Health)
Occupational therapists (Allied Health)
Pharmacists (Allied Health)
Registered Dietitians (Allied Health)
Psychiatrists
Psychologists/mental health therapists
Specialty physicians including:

Sport and exercise medicine physicians
Radiologists
Rheumatologists
Physiatrist
Chiropractors
Orthopedic surgeons
Non-regulated Health Care Professionals:
Podiatrists
Pedorthists
Kinesiologists
Exercise physiologists
Recreational therapists
Counsellors